Workers' Compensation
Whether you're an office or factory worker or work at a construction site, you may experience an on-the-job injury. These can be due to slips, falls, improper lifting and repetitive motion.
Getting You the Help You Need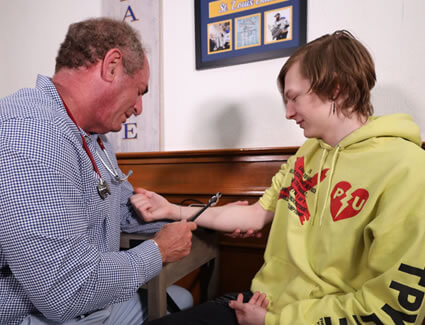 At West Chiropractic and Rehabilitation, we can address your injuries so you can recover and return to work. We support patients from Day 1—settlement, regardless of treatment status. With our experience, we are knowledgeable in the workers' compensation laws, regulations, and overcoming obstacles.
As a BWC-certified doctor, Dr. Fine is one of the only chiropractors that does medical legal work to help patients get additional conditions added to their workers' comp claim so they can get the help they need. He has over 30 years of treating personal injuries, so he can also offer trustworthy advice and answer any questions due to his experience in treating various injury cases.
Based on his years of experience, Dr. Fine will recommend the combination of therapies for each patient. These could include chiropractic care, physical therapy and more.
NEW PATIENTS

Frequently Asked Questions
What are the most common types of workers' comp injuries?
We often see injuries to the shoulders and knees. Carpal tunnel syndrome and tendonitis are common ones too.
Will you help me handle the filing process?
Yes, we can handle the entire process, from filing the workers' comp claim for you all the way through billing. We can file all your temporary, total disability paperwork for you or your FMLA paperwork for you. We are 100% knowledgeable about all avenues of Ohio workers' comp and paperwork. All you should focus on is getting better; we'll handle the rest!
Book an Appointment
If you've sustained an injury at work, we will do whatever it takes to help you heal and return to your life. Take that first step today by contacting us to schedule an appointment!

Workers' Compensation Westwood, Western Hills & Silverton, Cincinnati OH |
West Chiropractic and Rehabilitation